Virtual Fax
Fax to the next level: eBot for Cisco Webex and Microsoft Teams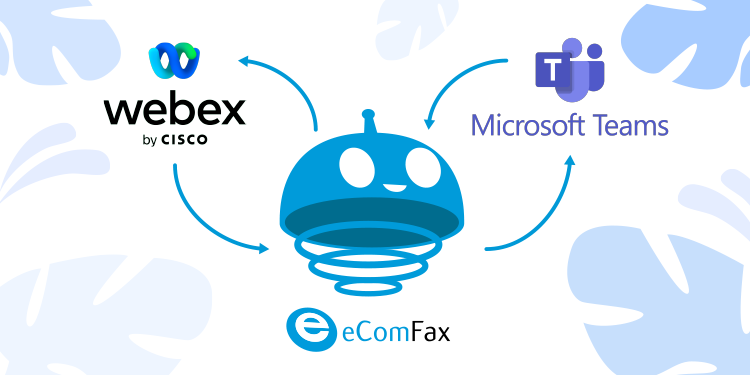 The evolution of communications technology has been abysmal in this last decade, so much so that it is disputed whether the technology has so much potential to develop such significant improvements going forward. This has meant changes and the diversification of both the deployment of media infrastructure in the enterprise environment, as well as the tools themselves, such as SIP phones, social networks, or unified communications platforms like Microsoft Teams, Zoom or Cisco Webex.
Fax and its arrival in the cloud
Furthermore, we are not only talking about diversification, but also about the evolution of technologies that at first glance may seem or sound obsolete, such as fax, yes, do not make a funny face, fax is currently becoming virtual with the digitization process, progressively replacing machines. The servers that host the fax system are moving from operating physically at the users' facilities, which is called On-Premise deployment, with the security and maintenance costs involved, to being hosted in the Cloud, allowing companies to forget about costs and other headaches, such as compliance and security, which are already intrinsic aspects of the Cloud because their providers work 24/7 to ensure them.
The use of this technology has been increasing in different sectors and, in fact, it is expected to continue growing. This is due to the degree of security it offers, as files remain fully encrypted during transmission, thus complying with strict international data protection regulations, such as HIPAA (Health Insurance Portability and Accountability) in the United States or GDPR (General Data Protection Regulation) in the European Union, conditions that are not met by email or social network messaging.
Fax providers have developed message modalities to adapt to the needs of the industries that use this technology the most, as is the case of eComFax, which has developed functionalities according to the degree of security required by the nature of the documents transmitted, simplifying the use of fax in corporate environments.
eComFax eBot for Cisco Webex and Microsoft Teams is on air
Do you remember what we told you about the diversification of communication methods? Well, the remote work imposed at the time by COVID-19 produced an imperative need to connect teams remotely, hence unified communication platforms such as Teams and Webex have become essential in day-to-day business, facilitating collaboration between employees and even between companies and customers, enabling consulting or even providing support. The providers of these platforms have created an ecosystem in which to work as a team, facilitating the creation and editing of online documents in which everyone can participate online, as well as a marketplace of Apps that can be useful for employees in their day-to-day work.
That is why eComFax has adapted to you and your communication needs, allowing you to group all your communications in a single application: calls, video calls, conferences, messages, and now also fax, SMS, and advanced messaging.
Now besides being able to send and receive faxes comfortably from any device with internet access from the web platform and mail, eComFax eBot is now available in the Cisco Webex and Microsoft Teams marketplace, allowing users to send faxes comfortably and quickly with a couple of clicks even from groups, without neglecting security or encryption and complying with international regulations.
If you want to know more about eBot for Microsoft Teams, click here.
If you are a Cisco Webex team member, find out more about eBot by clicking here.
See you soon!