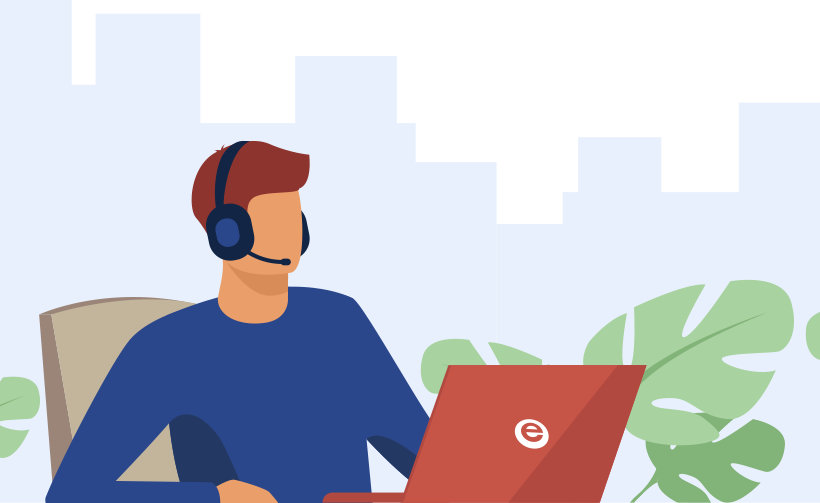 For free support please contact us here.
Talk to one of our fax experts now.
About the service and your line
What is eComFax
It is a virtual internet fax service that allows you to send and receive faxes, through your e-mail, without having to have traditional requirements such as a fax machine, dedicated line or consumables like paper, ink or electricity.
What is the 30-day trial?
With the free 30-day trial, you can try our service, see all the advantages of your eComFax subscription. During this period you can familiarize yourself with the service and if it is not of your interest, you only need to unsubscribe before the end of the trial period and you will not be charged.
Why do we need your credit card information?
We take your safety very seriously. We need your credit card information because it helps us to prevent possible fraudulent use of eComFax services. During the free 30-day trial period, we will not charge your credit card unless you decide to buy additional bonuses. Once the 30-day trial is finished, each month you will be charged the subscription fee, which you have chosen, automatically.
When can I start sending and receiving faxes?
If you purchase new fax numbers, you can instantly start sending or receiving faxes. If you decided to carry a fax number to eComFax, you can send faxes from the first moment but the process to receive faxes can take between 7 and 15 days.
Can I get a number in another city or in another country?
Of course, you can choose a number from any of the more than 8000 cities in 50 different countries. If your city is not available, please contact us.
Will I get my own Fax number?
When the service is enabled, you will be assigned a local number in the city you have selected, which will be your personal fax number from that moment. Faxes will be received in the e-mail account (s) you have configured (from the configuration menu in ecomfax) as an attachment. Please note that to request a number in certain countries it is necessary to have a physical presence in that country or city. The fax number assigned to you will be exclusively for you.
Can I send faxes from my mobile phone?
Yes, you only need to have an email account set up on your mobile phone.
Can I have more than one fax number?
Yes, you can have several fax numbers assigned to your eComFax account, and even in different cities or countries.
For free support please contact us here.
Portability
What is porting?
It involves changing your operator but, keeping the same fax number. eComFax will take care of the entire process and ask you for the information required to do so. Your old telephony operator doesn't have to do anything.
Can I keep my Fax number?
Yes, by carrying out the porting correctly and filling in the documentation correctly, that we will request.
How much time does it take to port a number?
The time to complete the change of operator is 7 to 15 working days after receiving the signed request of the user along with the necessary documents (usually a copy of the last invoice). Processing will not begin until all the necessary documentation are received.
What documentation is necessary for porting?
Fill out the application that we send you by email and sign it.
Copy the last complete invoice (all the pages of that invoice) of that number with the operator's data.
The data of the applicant and the invoice must match.
Processing can not begin until we have all the documentation in full.
I have a shared Fax and voice line what should I do?
These type of lines usually give problems with receiving faxes, so we recommend you hire the service with new number. The new number will be your private fax number that you must add in your advertising and cards.
IMPORTANT NOTICE: You should not request to leave the line with your current operator until you have confirmed that the transfer of your number has been made effective.
For free support please contact us here.
Sending and receiving faxes
How do I send and receive my faxes?
To send a fax, we send the document as an attachment from any email to the address xxxx@fax.ecomfax.com, where xxxx is replaced by the recipient fax number.
eComFax incorporates mechanisms to ensure security and avoid spam. Therefore, to send faxes from the email, the user has to specify a four-digit numeric PIN at the beginning of the "Subject" field. This PIN will be received when you sign up for the service and can also be configured from the "Settings" menu of the eComFax website. This PIN is common to all your number (s).
Example: Assuming the user's PIN is 1234 the subject of the message would be: "1234This is the attachment". The first four digits are removed from the subject and validated with the PIN of the user sending the email. In the event that an email is sent without this PIN or is invalid the email will be rejected.
You can also send from the web, accessing from your browser on your mobile, tablet or desktop computer to the following address: https: // www.ecomfax.com / user / Home / NewFax.
To receive faxes, you must provide the sender with the fax number that eComFax will provide at the time of contracting the service. The fax will arrive to you by email.
Your fax number also appears in the "Home" window of the User's Web.
Can there be a space between the attachment and the PIN Code?
Yes.
How do I insert a cover page in the email?
eComFax automatically generates a standard cover page. If you require an automatic cover page, send the fax to the email destination_number@faxp.ecomfax.com (note faxp (front page) instead of fax) and indicate the notes you want to appear on the cover in the "Subject" field of the email itself.
What if I send a fax without attachment and without a cover?
If you send a fax without an attachment and without a cover, it will be an error since there is nothing to send.
When I send a fax from my mail account what are the types of supported files?
The web allows you to send attachments with the following formats: Microsoft Office, txt, pdf, tif, jpeg, html, png, and many others.
If the format is not recognized an error occurs and you will be notified.
Can I send a document different to DIN A4?
No. The fax format known worldwide is the DIN A4 format.
Can I receive a fax in a searchable PDF format?
Yes, it is possible to receive PDF in searchable format. To do this you must access the Configuration panel and select the language in which these faxes should be read. This option supposes the consumption of 1 additional credit.
Is it necessary to install additional software?
No, it is only necessary to have Internet access either through your PC, your Smartphone or tablet.
How do I know that I have received a Fax?
Upon receiving a new fax, we will send it to the mail or emails that you have provided. You can also notify by SMS.
How do I know my faxes is sent correctly?
After you send a fax, you receive an acknowledgment of reception. In case of a problem, you will receive an error report on the transmission.
For free support please contact us here.
Consumption
What happens if my account balance runs out?
Each month we give new credits according to the contracted plan. These credits do not accumulate from one month to the next. If you need more credits for a specific month, you can top up your balance by clicking "Reload" in the "Start" menu of the eComFax user website. This credit needs to be consumed within a year.
How do I know that I am running out of credits?
You will receive a notification email when you have consumed 80% of your balance. There is the possibility of receiving a "notification by SMS". This notification is activated from the section "Configuration of the User's Web". The sending of these notifications by SMS consumes credits.
My subscription plan includes some pages of sending and receiving faxes. What happens if I do not have enough credits to receive faxes?
Faxes are received but will not be delivered until you top up with the necessary credits.
When you want to receive a Fax and you do not have enough credits to do so in your subscription, it will take them from your sending credits. eComFax will save the faxes up to a maximum of 30 days.
When sending a fax you receive a notification saying that the fax could not be sent due to insufficient balance.
This occurs because you do not have a sufficient balance and you would have to top up the balance or wait until the end of the month so that your subscription is renewed automatically and you are assigned new credits.
For free support please contact us here.
Cancelling the service
Will I lose my Fax number when cancelling the service?
Yes. If you wish to keep the fax number you must request to port the fax number to your new operator before cancelling the service.
How do I manage eComFax outgoing porting?
You should contact your new operator and follow the procedures indicated by your new provider. There is no cost by eComFax.
Can I change my Fax number?
No. To change the fax number, for example, because you want to have a fax number corresponding to another province, you must request a service registration for the new number, and once you do so, cancel the number you no longer want.
Will I lose my account balance or top up by cancelling the service?
Yes, the cancellation of the subscription implies the loss of the Balance or top up although you may continue to use the service until the end of your current subscription period.
For free support please contact us here.
Talk to one of our fax experts now.