Virtual Fax
eComFax – A HIPAA compliant internet fax solution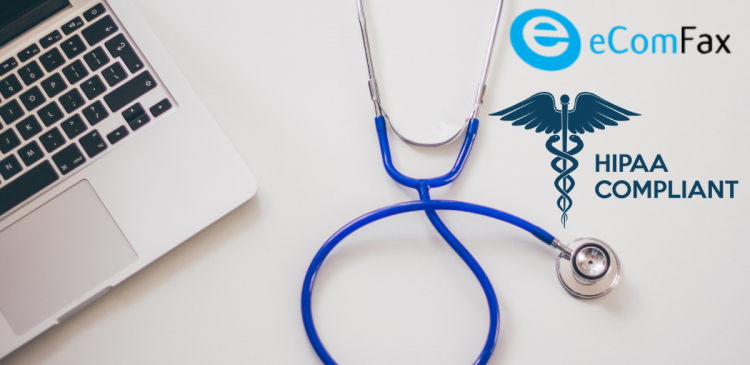 HIPAA was enacted in 1996 and requires healthcare providers and organizations (also known as Covered Entities), as well as business associates, to develop and follow procedures to protect the confidentiality and security of protected health information when it is transferred, received, handled, or shared. This includes information in electronic format (ePHI).
Fortunately, eComFax is designed not only to meet HIPAA requirements but goes beyond them so that all your fax communications are safe and patient information is secure. eComFax implements a number of security and operational features to ensure compliance.
<<< Find out how to comply with HIPAA for your PHI communications >>>
Why Virtual Fax vs traditional fax?
HIPAA is clear when it comes to securing patients' information and unfortunately, if you use a traditional fax machine you are at risk of non-compliance. Most offices have a shared fax machine so unless you are standing beside the fax machine you cant guarantee 100% that someone else will not receive the fax.
However, with eComFax you can link your fax number to your email and receive and send faxes electronically, ensuring privacy and security standards are met.  This HIPAA-compliant fax service enables you to transmit ePHI without compromising the patient's privacy and their personal data.
How secure is eComFax online fax solution?
When it comes to online faxing, the most important concern is privacy and security. We here at CWS are committed to providing a solution that covers all this. We encrypt faxes before, during transit and at rest. Also, eComFax is encrypted with the highest level of security available. AES-256, which has a key length of 256 bits, supports the largest bit size and is practically unbreakable by brute force based on current computing power, making it the strongest encryption standard.
eComFax also has a number of other security measures in place:
SSL/TLS encryption for all web and API-based faxing
SSL/TLS email transport encryption
SSL/TLS secured Print to Fax print driver
Password protected incoming fax PDFs
Option to block downloading or screenshotting faxes
Email link for a secure download of incoming faxes
The HIPAA Privacy rule
Under HIPAA individuals have the right to access all their health-related information including health conditions, treatment plans, notes, images, lab results, and billing information. Explicitly excluded are the private psychotherapy notes of a provider, and information gathered by a provider to defend against a lawsuit.
The Privacy Rule requires medical providers to give individuals access to their PHI. After an individual requests information in writing (typically using the provider's form for this purpose), a provider has up to 30 days to provide a copy of the information to the individual. An individual may request the information in electronic form or hard copy, and the provider is obligated to attempt to conform to the requested format.
eComFax offers secure storage and full traceability so if a patient requests their information you can retrieve it easily.
Why choose eComFax?
With eComFax there is no need to worry about sending and receiving ePHI, data breaches, unauthorized access, and most importantly misuse of patients' private information. Security and patient data protection are our number one priority. By using eComFax authorized personnel including doctors, medical assistants, nurses, and the administrative staff can transmit patients' sensitive data securely and reliably.
Send and receive faxes with ease via email or our online user-friendly web interface
Low-cost packages available for businesses of all sizes
Proven track record; delivering over a decade of quality, reliable, and secure online fax service
Online support is available when you need it and a dedicated emergency phone number
Our staff receive HIPAA compliance training, so you know you are in good hands
Find out more about our online fax solution for HIPAA compliance by clicking here.